One of the many things that's truly rewarding for us as a company is seeing the results through the images and previews our customers send to us. Every single time we receive an image of a display or picture of a nice grow, we feel truly fulfilled and honored to be a part of your journey as a grower using LED grow lights.

Become a Part of Our Community & Be Featured!
Our community on social is fairly new still, but encouraging new and experienced growers to interact with each other only makes our community stronger and more valuable. Having an organic exchange of tips, suggestions and previews of what high yields for good profits look like only makes it easier for us when creating quality products to help achieve those goals.
To keep the momentum going with all of the positive feedback we've received through social, we launched our GROWER'S CORNER – a recurring segment in both our social and blog where we feature outstanding grows and/or growers.
Introducing "Lady Dank"
For this particular post, we decided to feature a certain grower that caught our eye. Referred to as 'Lady Dank' in the community, she has dedicated her efforts to building a solid grow with one of our smaller lights, the SolarStorm 220. In her own words, "Definitely a strong little light," she can't hold her excitement over this conveniently sized yet powerful light.
In her email submission to us, she included a set of pictures of her SolarStorm 220 lighting up a weighty 'Banana Kush' grow. Although she's been working with smaller harvests, she is planning on expanding and eventually trying the larger lights. But as of now, she's enjoying every bit of her investment in the SolarStorm 220.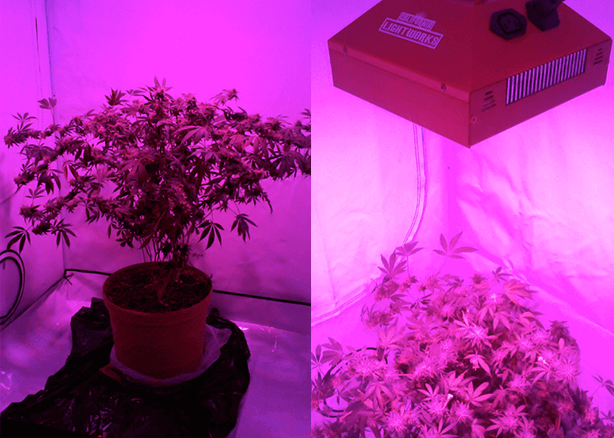 If you would like to submit to our GROWER'S CORNER and possibly be featured like "Lady Dank", email us at info@calightworks.com with a little about yourself and/or your grow, along with some images.
For those looking to join the movement, we actually have a GROWER'S REWARDS PROGRAM (GRP). Get rewarded and get recognized all while doing what you enjoy! To learn more about our rewards program, check out our application here.
Make sure you're following us on social!
Like us on Facebook
Follow us on Twitter
Follow us on Instagram
Subscribe to our Youtube